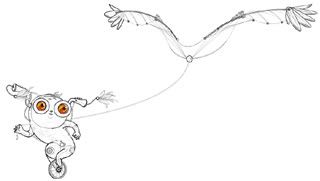 Just look at the cool things I find you.




"Fevolution is about infinite evolutionary possibilities."




"Fevolution is about infinite evolutionary possibilities." It's like this web page - life and technology fused together. What would a technological world look like if it were less polluting, less separating, more connecting, allowing people to be something they never were before? This is something I've been thinking about a lot lately, though I'm not sure I've found the answers. It seems the internet has something to do with it, connecting us and helping information evolve. Operating a blog makes you realize the tremendous amount of information and art on the web, that the potential of technology is to create something like a blog community, where you have thousands of independents always digging through vast streams of information to provide in a readable form the most interesting findings for people to read freely. Constantly creating, the internet provides both a capitalist media, but at the same time the opportunity for the spectators to acquire a voice and bring a civilization to evolve through new stages of interconnectivity and access to the performance of information, creating a counter-media in a way that wasn't possible before. Eric Feng's art reminds us of this other side of technology, that a technological world isn't all bleak.

Unfortunately, my thumbnails can't link to the bigger images on Feng's site since it's all flash or something, without individual page addresses. So please visit the site, feric.com, and navigate the simple layout to explore his world of images.

idea via drawn!